688 игры PlayStation Portable



---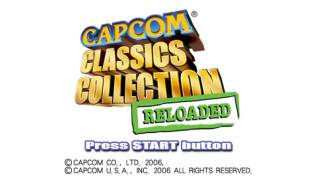 Capcom Classics Collection Reloaded
Более 15 классических аркадных игр вошли в эту подборку приставочных хитов от Capcom. Capcom Classics Collection Reloaded предлагает отличный способ времяпровождения в одиночной или сетевой игре с вашими друзьями.
В подборку вошли следующие классические игры:
Street Fighter II;
1942;
1943;
1943: Midway Kaisen;
Ghosts 'N Goblins;
Super Ghouls 'N Ghosts;
Commando;
Mercs;
Son Son;
Vulgus;
Higemaru;
Exed Exes;
Gun.Smoke;
The King of Dragons;
Knights of the Round;
Eco Fighters.
---
ИНФОРМАЦИЯ ИГРЫ
---
Название игры:
Capcom Classics Collection Reloaded
Платформа:
PlayStation Portable (PSP)