688 игры PlayStation Portable



---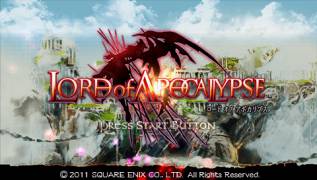 Lord of Apocalypse
Фэнтезийная экшен/RPG, негласное продолжение Lord of Arcana, за дизайн персонажей которого отвечает Цубаса Масао (Metal Gear Acid и Zone of the Enders: The 2nd Runner). Редактор героя, кооператив на четверых – в наличии. В сетевом режиме игры могут принят участия до 4 игроков, так же в мультиплеере будет задействована функция Quick Time Events где нужно будет нажать верную кнопку показанную на экране, в какой то промежуток времени.
Так же в игре будет большое изобилие орудий, таких как: копья, мечи, томагавки и многое другое.
Поединки в игре проходят очень красочно и впечатляюще. Битвы с боссами выглядят очень эпично, так как все боссы нереальные громилы.
---
ИНФОРМАЦИЯ ИГРЫ
---
Название игры:
Lord of Apocalypse
Платформа:
PlayStation Portable (PSP)